Case Study: CORNEA WITH CHRONIC SUPERFICIAL KERATITIS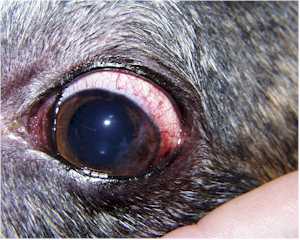 Above: Appears to be an Immune Mediated Keratitis (inflammation of the cornea requiring topical steroids to keep it controlled. Unilateral in this dog (a greyhound) but usually a bilateral disease of German shepherds. This is not painful but potentially blinding.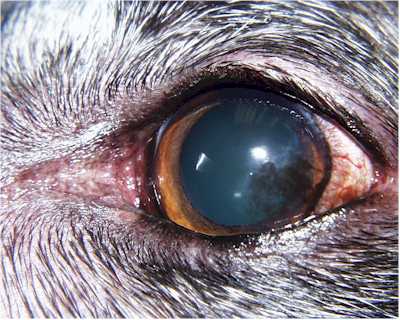 Above: Two-week follow up picture on the greyhound. Note how the corneal vascularization has regressed and the pigmentation of the cornea is a little less dense. Chronic Superficial Keratitis can also affect Dachshunds and Border Collies as well as shepherd crosses. Frequent therapy is needed initially and usually can be tapered to once daily. Occasionally we have to use topical cyclosporine—trade name Optimmune from Schering Labs.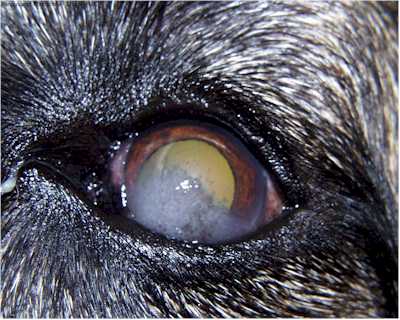 Above: Here is another case of pannus. This time in a G. Shepherd. We are starting therapy with a topical antibiotic steroid and hope to be able to arrest the disease.
Doctors on the Case
Robert J. Munger, DVM, DACVO
Annajane B, Marlar, DVM, DACVO.
Cornea with Chronic Superficial Keratitis in Dog