Veterinary Ophthalmology Services
The Animal Ophthalmology Clinic is limited to the specialty of veterinary ophthalmology (diseases and surgery of the eye and adjacent structures), and provides diagnosis and treatment of ocular problems in all animal species. Please do not request other veterinary services.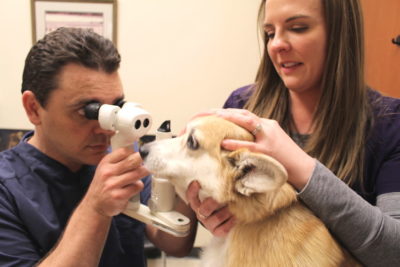 We offer:
Advanced cataract and lens implant surgery
Diode laser therapy for glaucoma and retinal detachment
Diagnostics including:
High Resolution Ultrasound
Ahmed valve procedure for acute glaucoma
Light and dark adapted electroretinography
On-Site CT available
Ophthalmologist on call for emergency consultation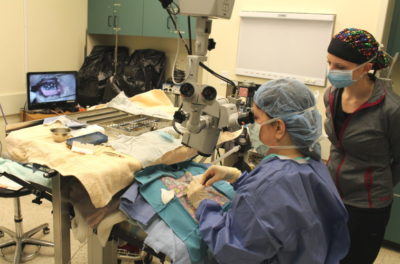 What is a Veterinary Specialist?
With advanced training and expertise in their selected fields, veterinary specialists bring acutely honed skills and knowledge to supplement the medical care from a referring general practitioner. In this way the specialist is able to work in concert with the primary veterinarian to provide optimal patient care with the most efficient use of time and resources. The Animal Ophthalmology Clinic is committed to working closely with primary veterinarians, further the advancement of veterinary ophthalmology with training residents, and keep abreast of new advancements in the field of ophthalmology. We also maintain close ties with veterinary ophthalmologists in other parts of the world.
What is a Board Certified Veterinary Ophthalmologist?
At the Animal Ophthalmology Clinic, we take pride in employing veterinary specialists who are board certified diplomates of the American College of Veterinary Ophthalmologists (A.C.V.O.) and veterinarians who are working toward their certification. The American College of Veterinary Ophthalmologists is an association, not an actual physical location, that has established certifying criteria for ophthalmologists. The purpose of the A.C.V.O. is to advance veterinary ophthalmology in such areas as training, continuing education and research.
To become eligible for board certification, a veterinarian who has graduated from veterinary school at a 4-year university program must complete an A.C.V.O. approved residency. This residency is completed under the supervision of board certified veterinary ophthalmologists and requires three years of intense training. The selection process for an A.C.V.O. approved residency is highly competitive. Prior to being accepted into a residency, most residents have completed an internship and/or have up to five years of experience in veterinary medical practice.
Once the residency is completed, the board certification process begins first with a credentials package consisting of publications, case reports, and resume. If the credentials are accepted by the A.C.V.O. exam committee, eligible residents must pass an extensive examination process to become board certified. The exam is a four-day ordeal consisting of written, practical, and surgical parts. Finally, after passing all of the above criteria, the veterinarian is considered a Diplomate of the American College of Veterinary Ophthalmologists or in short, Board-Certified in veterinary ophthalmology.
At the Animal Ophthalmology Clinic, our highly skilled veterinary specialists actively support doctors with an A.C.V.O. approved residency in our program.